Learn About Tooth Abrasion and Overbrushing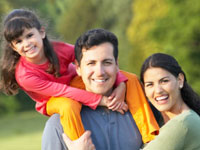 Recently, the issue of over brushing and its direct link to tooth abrasion has been a topic in many journal and news articles. A story in The Wall Street Journal (dated February 4, 2000) stated that in many cases, "the culprit in toothbrush abrasion is the toothbrush itself." This issue is particularly important because people can damage healthy teeth and gums by brushing too hard, oftentimes with a medium- or hard-bristled toothbrush. In fact, dentists and representatives of the American Dental Association have recommended for years that people use a soft-bristled toothbrush for their dental care.
Our teeth and gums are susceptible to wear and tear like all other parts of our bodies. In cases of improper brushing, such as brushing too vigorously, gum tissue can be worn away. Receding gums then lead to other significant dental problems such as sensitive teeth, periodontal disease, cavities, root canals, and potentially removal of teeth.
Solutions to brushing too hard and causing tooth abrasion include adjusting the angle of your toothbrush (it should be at a 45-degree angle), lessening the amount of pressure you use, monitoring the length of time, as well as making sure that you are using a soft-bristled toothbrush. In addition, always ask your dentist for specific recommendations related to your oral health care.
While the potential harm to teeth and gums through over brushing is significant, an even greater percentage of the population suffers damage to their teeth from occlusion (bad bite), genetic factors, and poor overall dental hygiene. It is critical to carefully maintain and monitor your oral health. The best approach to maintaining good oral health is to brush your teeth twice a day with a soft-bristled toothbrush to prevent tooth abrasion with fluoride toothpaste, floss or clean between the teeth using an interdental cleaner (special brushes, picks or sticks), and visit your dentist every six months. Follow your dentist's advice with regard to any changes to this regimen.
By Brian J. Gray, DDS, MAGD, FICO
Dental Care and Pregnancy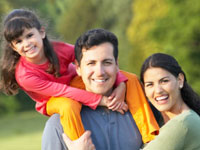 Thinking about your baby and prenatal care is normal during pregnancy; however, thinking about your teeth and dental care may not be forefront on your mind. Women need to pay special attention to their teeth and gums especially during pregnancy to avoid the increased risk of dental problems.
Your Changing Body and Changing Dental Needs
Pregnancy brings a change in hormones, especially increased levels of estrogen and progesterone, which are linked to plaque buildup on teeth. Plaque that is not removed can cause gingivitis and swollen gums that are tender and prone to bleed. Most pregnant women experience gingivitis to some degree, but it doesn't usually surface until the second trimester. If you had gingivitis before becoming pregnant, your condition will likely be aggravated; untreated gingivitis can lead to a more serious problem -- periodontal disease. Swollen gums that become irritated can also lead to pregnancy tumors, benign growths that will usually shrink and disappear without treatment. However, if the tumor causes discomfort or interferes with chewing or brushing, the dentist may suggest removing it.
Special Preventive Tips
Brush at least twice a day with fluoride toothpaste and after each meal, if possible.
If brushing your teeth causes morning sickness, rinse with anti-plaque and fluoride mouthwashes or water.
Pay close attention to your gum line and keep it clean.
Floss daily.
Focus on nutrition, including plenty of vitamins C and B12.
Visit your dentist for a check-up and cleaning in both your first and second trimesters to control plaque and maintain good oral health.
Handling Dental Emergencies During Pregnancy
If you experience dental problems causing pain, you can be treated at any time; however, consult your doctor if anesthesia is required or a medication is prescribed to you. Avoid X-rays during pregnancy, unless they are critical to emergency treatment. It is recommended to schedule elective procedures after your baby's birth. While you're expecting, have great expectations for maintaining good oral health. By doing so, you'll keep your beautiful smile and share it with your baby!
By Brian J. Gray, DDS, MAGD, FICO