Self Dental Care Tips For Special Needs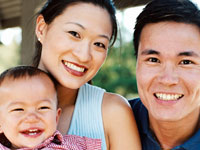 Maintaining good oral hygiene can be a challenge, especially if you have developed a health condition that makes brushing and flossing more difficult, or have been in an accident that created new limitations. Dentists want to help all dental patients keep their mouths healthy, and they offer these suggestions about performing oral hygiene and home dental care .
Brushing Tips
Problems in hands, wrists, arms, and shoulders can hinder a person's ability to brush, floss, and perform oral hygiene. While each situation is different, there are some suggestions that have been effective in making dental care easier:
Use a wide elastic band to attach the toothbrush to your hand for extra gripping power.
Attach a small rubber ball, a sponge, or a rubber grip to the toothbrush handle with strong tape. This enhances gripping power and is often useful when hand or arm movement is weakened or limited.
Use a longer wooden dowel, a ruler, or plastic rod to lengthen the toothbrush handle, wrapping it securely with strong tape. This longer length may help in more easily reaching your mouth.
Use an electric or sonic toothbrush.
Flossing Tips
If limitations make brushing harder, flossing may be an even bigger challenge. Depending on your limitations, try these techniques:
Use a piece of floss, about 18" long, and wind one end of floss around each finger instead of holding it. This will increase your grip and prevent the floss from dropping out of your fingers with each tooth you floss.
Hold the floss tightly and seesaw it back and forth between the teeth, instead of pushing the floss right through.
Tie the floss into a long circle instead of using one long piece, which may make it easier to hold and less likely to drop from your hands.
Try using a floss holder, available wherever oral hygiene products are sold.
By Danine M. Fresch, DDS
How To Stop Dry Mouth: What You Should Know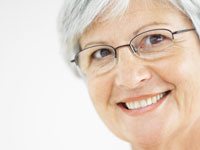 Saliva, which contains essential protein molecules, electrolytes, and minerals, is critical to good oral dentistry health. Saliva lubricates and cleanses the mouth, preserves and bathes tooth structure, neutralizes acids that cause cavities, limits growth of bacteria, viruses, and fungi, dissolves and breaks down food, assists with taste, keeps the mouth moist (no dry mouth which helps with speaking and eating), and facilitates the retention of dentures.
Research has shown that healthy, unmedicated older adults do not have any significant decrease in saliva flow. Loss of saliva and dry mouth are not the result of normal aging, but are instead associated with illness, disease, medication treatments, and medication.
Reduced saliva flow increases the harmful effects of the organisms of the mouth, causing dental cavities, bleeding gums, plaque, burning mouth, pain, soft tissue infections, and cracks. In addition, an individual may have difficulty speaking, tasting, and swallowing food. Dentures do not fit well or feel comfortable when saliva is reduced.
Older adults take many over-the-counter and prescription medications for chronic medical conditions and disorders. For many of these medications, decrease in saliva flow is a common side effect. In fact, over 500 prescriptions and over-the-counter medications cause dry mouth (xerostomia). The medications most often associated with dry mouth are:
tricyclic antidepressants
antipsychotics
antianxiety
antihistamines
decongestants
antihypertensives
diuretics
antiparkinsonism
anticholinergics
Although medication use is frequently associated with dry mouth, certain medical diseases, conditions, or treatments reduce saliva flow. Examples are
head and neck radiation treatment for cancer
Sjögren's syndrome
poorly controlled diabetes
bone marrow transplantation
HIV
cystic fibrosis
scleroderma
amyloidosis
sarcoidosis
vitamin deficiency
thyroid disorders
mental stress and depression
By Denise J. Fedele, DMD, MS